Post World War II America was fueled by a sense of new hope, optimism, and a possibility for reawakening. No less was this true than in the bedroom town of New Canaan, Connecticut, with its white picket fences, colonial era saltboxes, 19th century churches, conservative politics and cold war kids playing little-league baseball.
Into this Norman Rockwell setting were thrust five men, now known famously as the "Harvard 5", architects and industrial designers who had learned the mantra "form follows function" from Walter Gropius of Bauhaus fame at the Harvard School of Design. Reinterpreting design based on the changing way post-war America lived its life, they literally planted their Bauhaus ideal in the New Canaan granite by constructing "modern" homes that exemplified their unique styles but collective philosophy.
One after another, Eliot Noyes, Marcel Breuer, Landis Gores, Philip Johnson and John Johansen were building in New Canaan, but all did not come up roses. While some New Canaanites embraced their novel ideas, many put up a fight against their groundbreaking designs. "The Harvard 5" tells the story of this intellectual and sociological struggle that ultimately redefined the significance of the sleepy, New England town of New Canaan.
JOHNSON | BREUER | NOYES | GORES | JOHANSEN
OVERVIEW
"The Harvard 5" will tell the story of five of the most notable, mid-century modern architects who furthered the ideals, ingenuity, and intellect of the Bauhaus by experimenting, practicing, and building in post WWII New Canaan, CT. It will draw on one-of-a-kind interviews with those who worked with the Harvard 5, were married to them, were their children and grandchildren, their co-workers, students, clients and even present-day homeowners.
Stunning new footage both of New Canaan mid-century moderns and traditional, colonial New Canaan —combined with archival film footage and photographs— will tell the story of these remarkable men, their artistry, the challenges they faced, and why the town of New Canaan was like an open workshop, critical in their ability to experiment.
Ultimately, "The Harvard 5" will fascinate in showing how these five architects took risks that contributed to a massive design revolution — a revolution of ultimate historical importance.

THE CHARACTERS
John Johansen
A refined philosopher who took his designs in a very different direction from the Bauhaus. Paints a first hand picture of New Canaan life in the 40s and 50s for the H5, both professionally and personally – the social scene, the parties, the town. Provides original philosophy on what the H5 were doing in the mid-century and how it differs from architecture today.
Pam Gores
Wife of Landis Gores, she adds a spouse's perspective. Describes Landis' relationship with Philip Johnson, the town outbreak of Polio and Landis' infliction with the disease, and also shares her personal memories of Landis - the man and the designer. One interview conducted at the Gores Pavillion in New Canaan.
John Black Lee
Worked for Noyes (among others) and is a modern architect himself. Provides a first hand account of how the H5 and friends were perceived in town. Explains his personal commitment to designing a residence to fit into the landscape and how mid-century modernists thought out of the box. Second interview conducted at the Glass House.
Fred Noyes
Son of Eliot Noyes, and an architect himself, provides clear picture of the thought process behind his father's designs, stressing the Bauhaus mantra, "form follows function" and the need for every design to begin by analyzing the individual and expected functional end result. Fred also paints an intimate picture of Eliot Noyes, the man, the father, the husband.
Gordon Bruce
Eliot Noyes biographer and former employee in design sector. Gordon provides background information on the Harvard Graduate School of Design, modernism, modern architecture, industrial design, and the process of creating design based on functionality that he learned by working in the Noyes offices.
Jens Risom
Renowned New Canaan based modern furniture designer, credited with designing the first Knoll chair. Answers the question of why furniture design also took a turn in the mid 20th century and why "modern" furniture fit with "modern" architecture. Also talks about what New Canaan waslike in the early 40's and 50's. Second Interview conducted at the Glass House.
Robert & Sirrka Damora
Photographer of moderns, modern architect. Talks about modern design and architecture and about photographing these houses that were so controversial.
Lyn Bremer Chivvis
Daughter of Paul and Nina Bremer, who commissioned Noyes to build the Bremer house in NewCanaan on Windrow Lane. The Bremers also represented a modern family, a different family unit than a traditional New England sort. Lyn tells personal stories about her father's closest friends, El Noyes and Lajko Breuer as well Jo Johansen, parties held by and attended by the "modernists". Also describes decision and process of asking El Noyes to build her own residence in New Canaan, the Chivvis Residence on Wydendown Lane. Second Interview at the Glass House.


Alan Goldberg
New Canaan architect, partners with Eliot Noyes in architectural firm. Discussed idea that thought-out "design" is essence of modern architecture as well as continuum of architecture.
Eames Demetrios
Grandson of Charles and Ray Eames, groundbreaking modern furniture designers and filmmakers. Discussed importance of preservation of historic places and also the context within which "modernists" such as Harvard 5 were creating groundbreaking designs.
Pamela Valentine & Bill Mattessoni
Current owners of the Philip Johnson designed "Boissanas" house that they have restored. Discussed why they moved out of a New York City loft and into a modern house in New Canaan.
Richard Bergman
New Canaan modern architect who worked with Eliot Noyes, John Johansen, and Victor Christ-Janer at differing times before starting his own firm. Recounts stories about the Harvard 5 and discusses the history of New Canaan, originally a town of shoemakers, and why the landscape, the location, and the topography were significant to the modernists.
Eugene & Rosanne Deserio
Longtime New Canaan residents who moved out of a colonial home and into the first John Black Lee designed house that is built into massive granite outcroppings on Laurel Road. Discussed the decision to move from traditional to modern and what they have gained from that decision.
Ruth Smithers
Longtime New Canaan resident and art lover who met Philip Johnson by cold calling him when she moved to town. Recounts many personal stories about Johnson and the "modern" culture within New Canaan and reflects on the many characters within the modern social scene. Attended the first Merce Cunningham performance at the Glass House as a guest of Johnson.
Joan Feick
Longtime owner of the Noyes designed "Arlt" house. Describes the challenge Noyes faced in designing the house for the Arlt family's large painting and sculpture collection and what might happen to the house when she is gone.
Additional interviews will be conducted
DEVON CHIVVIS
Inspired by a life-long passion for visual storytelling combined with a love of art, architecture, photography and adventure Devon has over 16 years experience as a director, producer, and writer of narrative and non-fiction television, film, branded and social media content. She is broadening her range to include Virtual Reality so she can incorporate virtual reality to tell compelling stories --in ways previously unimaginable-- by bringing audiences into worlds they wouldn't otherwise experience.
As co-founder of wild LIFE productions (WLP), she built and oversaw the production company while making adventure, travel, expedition, scientific, historical, and industrial content for clients such as Discovery, Travel, Nat Geo, NOAA, NASA, Sony Pictures Television, Enron, and Heineken, as well as for foundations and museums such as the Smithsonian Air & Space Museum, and other non-profits and government agencies.
Having grown up in a glass house designed by Eliot Noyes and Alan Goldberg, Devon didn't realize how unique that was until she went to college and tried to explain that riding around on a tricycle inside the dining and living room was a very do-able past time. For her, this film is a work of passion, family history, and an homage to those artists and intellectuals, risk takers, friends and competitors who made New Canaan Modern... It's the unique story of the Harvard 5 that she is dying to share with the rest of the world.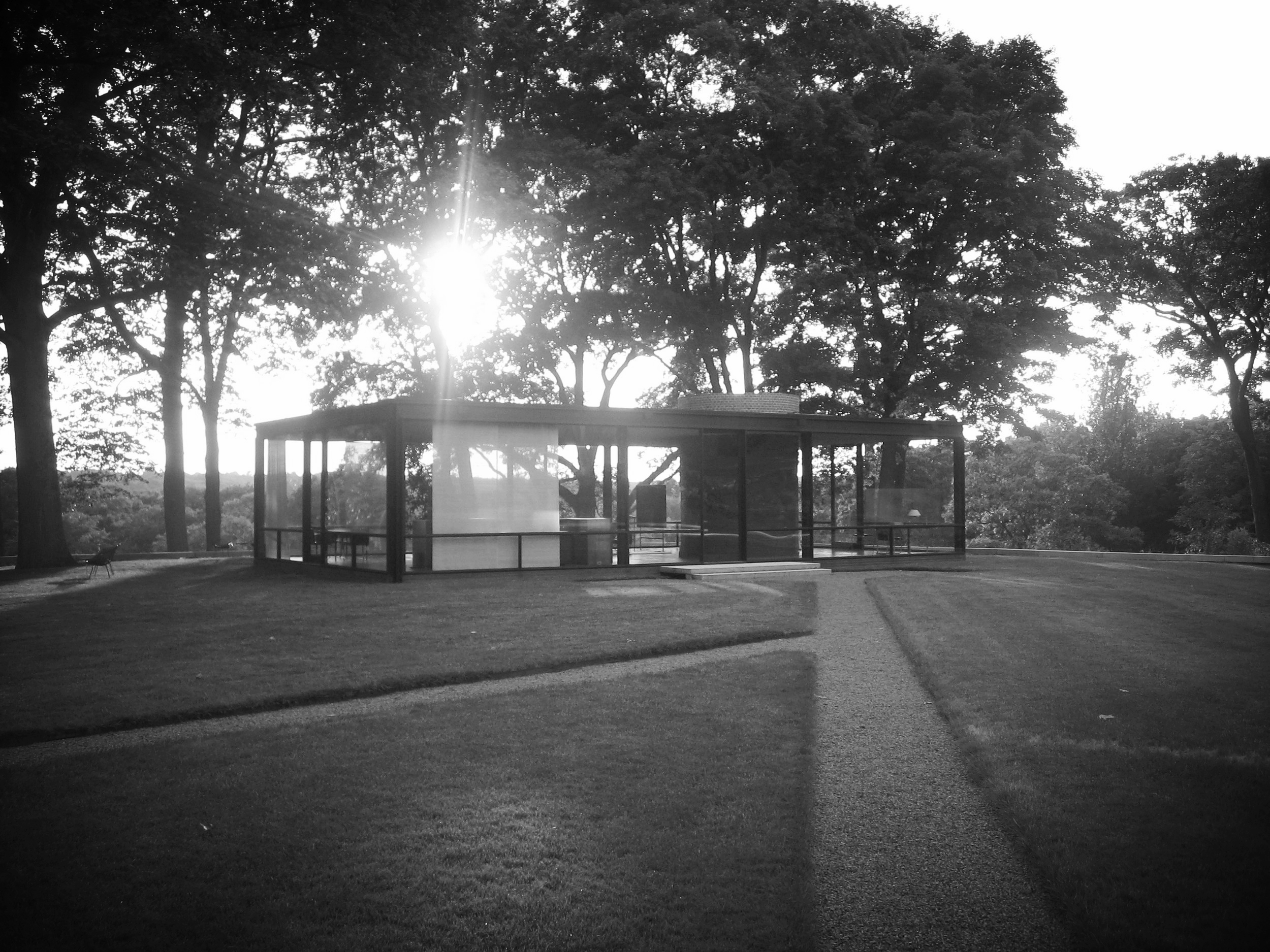 FUNDRAISING
Our goal is to raise $400K that will allow us to complete & successfully market a one-hour film about these revolutionary architects. We are most grateful for any size donation, as every single dollar helps. If you have a particular favorite among the Harvard 5, consider a donation that will go towards supporting his story as part of the whole. A portion of the total budget will go towards digitizing the archives of these five architects for the very first time. That way, this film is giving back both by sharing this never-before-told story, but also by preserving the work of men who launched an incredible movement in modern history of the arts.
We have been rewarded a fiscal sponsorship by the International Documentary Association (IDA), a 501(c)3. This means that any individual or foundation interested in becoming a sponsor of this project can donate through the IDA to receive a tax deduction. There are two ways to go about donating: online or by mailing a check to the IDA.
FOR MORE INFORMATION ABOUT THE INTERNATIONAL DOCUMENTARY ASSOCIATION, PLEASE CLICK HERE.
TO DONATE ONLINE PLEASE CLICK THE BUTTON BELOW
TO DONATE BY CHECK, PLEASE BE SURE TO INDICATE THE FUNDS ARE FOR "THE HARVARD 5".
Checks should be sent to:
INTERNATIONAL DOCUMENTARY ASSOCIATION
ATTN: Filmmaker Services (FOR "THE HARVARD 5")
3470 Wilshire Blvd., Suite 980
Los Angeles, CA 90010
USA
For any other questions please contact me at: 310.770.7435 or the IDA directly at: 213. 232.1660